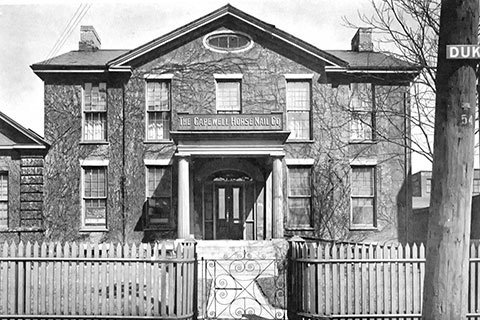 25 Adelaide Street
Toronto
No image of the Vickers house is known to exist but Toronto's historic Campbell House (which was later re-located to the corner of University Avenue and Queen Street West) would have been a nearby neighbour of the Vickers residence at 25 Adelaide Street when intact at its original location at 34 Adelaide Street. The two may have had shared similar features other than the misfortune to be located in an area rapidly transforming into a commercial and industrial centre that was no longer residential in character.
Letter from Catherine Parr Traill to daughter Annie (Traill) Atwood:
11 April 1885
(Brockton) – [village located at present intersection of Bloor St. and Spadina Avenue, Toronto]
My own beloved Annie,
You will most likely have heard ere this reaches you of the death of your dear Aunt Moodie. I had left the Vickers house on Saturday as she shewed no symptoms that any particular change was likely to ensue for some time though she was restless and uneasy but not more than usual. On Sunday Easter day – there had been a new church bell put up close to Adelaide St. and the first tolling of it for church had greatly disturbed her poor brain. She exhibited great sings of uneasiness and fancied it was tolling for the execution of some murderer who was to be hanged for cutting off her – your Aunt's head – for you must know my dear Annie that the poor Aunt's head was all in a deranged state lately she was the victim of all sorts of terrible delusions – The nurse who never leaves her only for a few minutes found her charge out of bed kneeling by a chair praying that this man might not be hung [sic] for killing her for she lost her own identity at times –
Well dear she got worse after that night – On Monday she fell into a state of unconsciousness from day break she never opened her eyes – Mrs. Vickers sent a message to me and I went at once – but my beloved sister never was conscious to the last moment. We watched beside her – her mother Isabel [Isabel Vickers, Kate Vickers's mother-in-law], myself and the good nurse till rest and peace came and all was over – The total loss of your dear aunt's faculties had indeed reconciled us to the final close of her life on earth consoled by the hope that it was entrance by death of the frail body to a higher state of life where no death has power – for The Lord in whom she believed had overcome the sharpness of death purchased by his life and sufferings on the Cross, eternal life for all believers. When Christ who is our life shall appear then shall we also appear with Him for that is His promise – God Grant it be ours to realize these words my dearly beloved child. The restful peace of God seemed to have taken the place of all the sad harassed pained expression that was for so long sad to witness – on that beloved face – As she lay among the lilies and lovely flowers that in life were so dear to her eyes – I felt indeed that it was well that the toil and the mental strife was over – so like in death to my own dear mother as if I saw her loved face once more calmly sleeping as I so often had done fifty two years ago – The remains were taken to Belleville as she wished and her husband and two children will be buried in the new cemetery above the East Bay of the city.
Now my dear Annie – I have told you what you must wish to know respecting one always dear to you and by and by – I may be able to give you further particulars but must now close for the present.
Your own loving mother
CP Traill –